February 4, 2018
Spanish Wine Festival in September
By: Jamie Narehood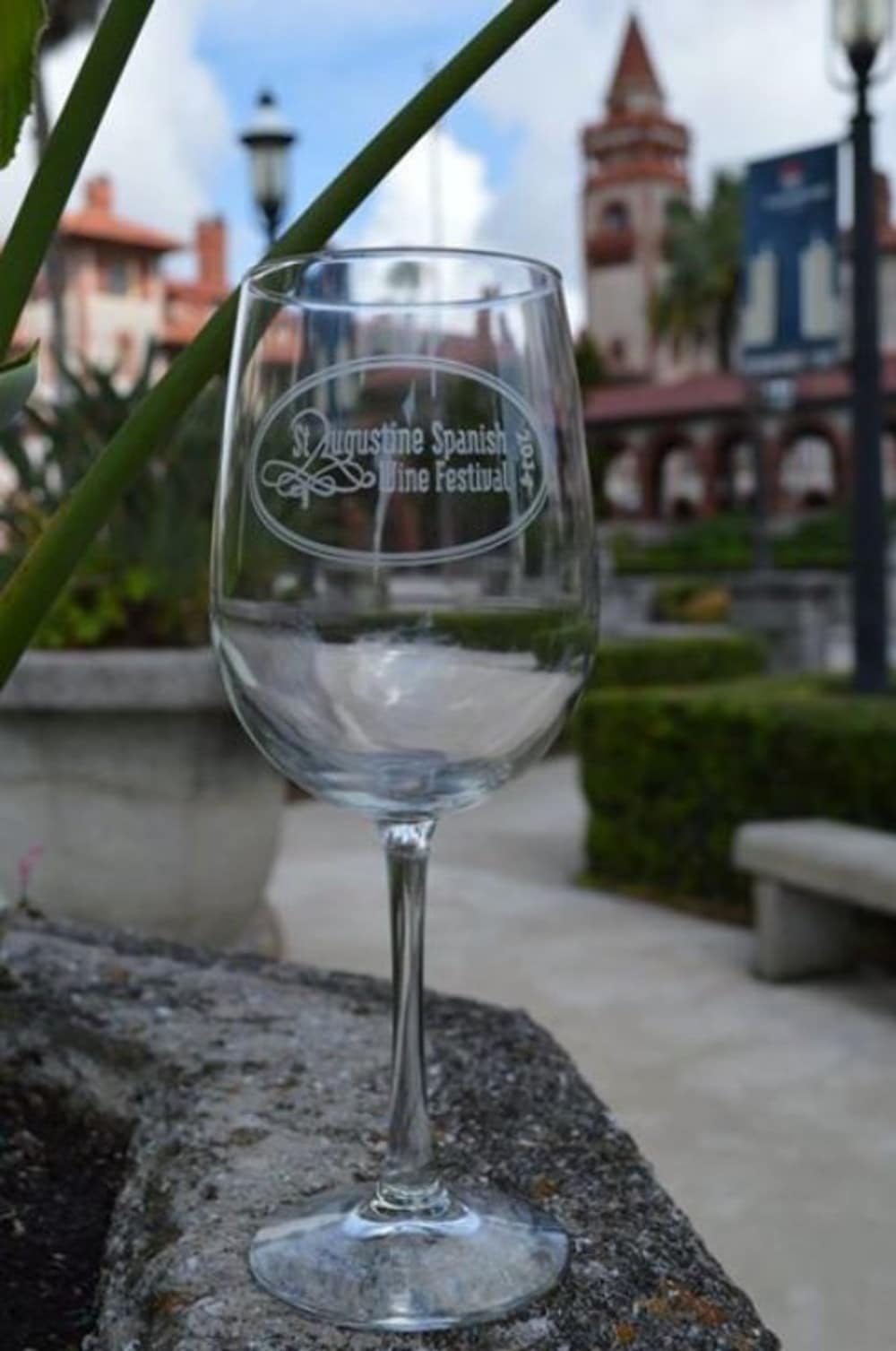 St. Augustine's Annual Spanish Wine Festival
Held in September, 2018 Dates TBD
www.spanishwinefestival.com
The colorful past of St Augustine FL sets the stage for one of the Wine Festival's popular events, Batalla de Vino.
Batalla del Vino (battle of the wine) is a Spanish tradition dating back to the Middle Ages and the bloody warring over border disputes between the Castilian cities Mirande de Ebro and Haro. "Recalling", a peaceful battle, takes place every year at the Peter and Paul's Day where villagers and tourists gather for a celebration at the village church. Wine is blessed by the parish priest. Citizens dressed in white process up the mountain where they use bota bags and squirt guns to "decorate" one another with red Spanish wine. St. Augustine's batalla also is a playful celebration of the talent and energy that goes into making Spanish wine. Participate in an outrageous event where squirting wine on strangers is the name of the game.
Each year the event also features a Kick-off Luncheon at First Coast Technical College in honor of Fresh Starts in Culinary Arts, an scholarship program developed by FCTC in cooperation with St. Augustine's St. Francis House (a temporary home for members of the City's hungry and homeless population). This four-week program is designed to provide residents of the St. Francis House with relevant training and certifications that will make them immediately employable in foodservice. They learn basic and advanced culinary and baking skills. They learn how to prepare breads, pastries, soups, sauces, salads, entrees, ice carvings, and show pieces. Cold food preparation, cooking methods, food costing, production, and purchasing are part of the curriculum. Students are taught knife skills. All this in preparation for the American Culinary Federation (ACF) industry certification. Quite the learning load for a four-week program. All luncheon proceeds will go to this scholarship program.
Vino Veritas, translated as truth in wine, this event is a great opportunity to learn about Spanish wine pairings and preparation of authentic Spanish cuisine by Spanish winemakers and chefs. Vino Veritas will feature outstanding Spanish whites and reds along with Spanish tapas prepared by top restaurants in St. Augustine. This event provides the perfect atmosphere to learn about Spanish wine and food while mixing and mingling with friends, neighbors and Spanish nationals.
The Cava Reception & Dinner offers an elegant evening of authentic Spanish food, music, dance and wine. The event is held at the Treasury on the Plaza located in the heart of the downtown historic district. This one-of-a-kind venue was originally built in 1928 as St. Augustine's landmark bank and provides the perfect backdrop for this grand night.
All proceeds benefit Catholic Charities of the Diocese of St. Augustine. 6-10:30 pm. 24 Cathedral Place.
The Grand Tasting has something for everyone! This event provides the opportunity to sample more than 125 different Spanish wines, which is the largest collection of Spanish wines on display in America. The event also features samplings of Spanish-inspired hors d' oeuvres.
For a full schedule of this year's events, stay tuned to www.spanishwinefestival.com.
Although September is not St. Augustine's peak season, this is a very popular event and you'll want to reserve your accommodations now. The place to stay is Bayfront Westcott House. This St. Augustine waterfront historic home was built in 1880 and offers 16 luxurious rooms; a complimentary gourmet breakfast each morning; on-the-house early-evening beer, wine, and nibbles; a fabulous front-seat view of the grand Bridge of Lions and majestic Matanzas Bay; and is just a short walk away from all the Wine Festival's events.
MichaelM says this, "This was our second stay at the Westcott House. You are able to choose your room on the website which is really fun. Each room has fabulous decor. The staff is amazingly accommodating. The location is great because you are across from the water and walking distance to the main town area, shops and restaurants and most sites. Included is a breakfast of your choosing which will not disappoint. In addition each evening they host wine and appetizers.
STAY At THE WESTCOTT HOUSE it will make your visit to St. Augustine memorable!"

Bayfront Westcott House
146 Avenida Menendez St Augustine FL | 904.825.4602 | www.WestcottHouse.com
We'll coordinate your every wish and spoil you every second!