August 17, 2018
Some Like'm Hot!
By: Jamie Narehood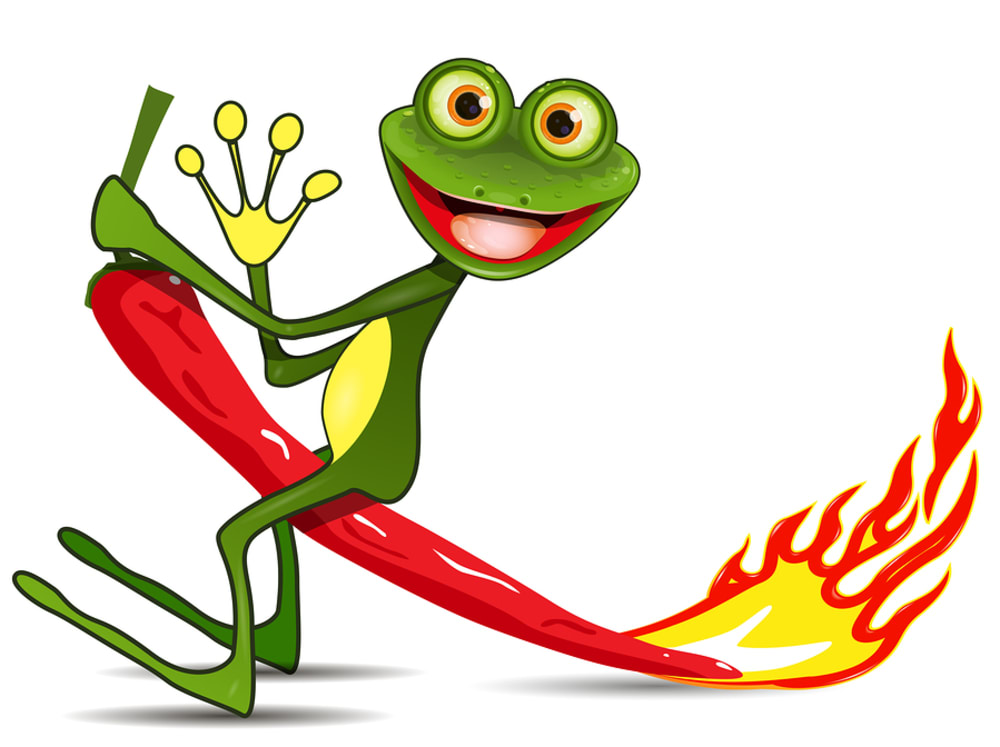 Did you know that the majority of U.S.-grown datil peppers are produced in St. Augustine, Florida? Some say the peppers were brought to St. Augustine by indentured workers from Minorca. Others propose it was a jelly maker named S.B. Valls who brought them from Cuba in 1880 (the same time frame during which Dr. Westcott was building our house).

Did you know that datil plants can grow up to 2-1/2feet fall? They can grow indoors if the seeds are started indoors 8 to 10 weeks before the last frost and planted outside after the soil warms.When planting outdoors, they grow best in hot areas offering at least 90 days of dry, frost-free weather. According to the Farmers Almanac, St Aug sports an average of 321 growing days!
Size does matter! Mature datils can grow from 2 to 4 inches long and register at approximately 100,000 SHU. As a reference point for heat index, larger peppers like bell peppers or banana peppers can grow to 8 inches and are low on the Scoville Scale (0 & up to 500 SCU), while smaller peppers like Serranos (1 to inches long, up to 25,000 SHU) and Habaneros (1 to 2-1/2 inches long, up to 350,000 SHU) are usually much hotter; thus, the smaller peppers are hotter, and depending on your palate, size does matter!
What the heck is an SHU?
In case you missed its very brief mention in the above video, did you know that not only are some peppers hot when you eat them but can burn your skin? Some peppers, including the datil, belong to the species Capsicum chinense. Sound familiar? Capsaicin is a topical ointment used as painkiller that burns burns burns. In this writer's experience, it burns so much it makes you forget about the real pain, sometimes for hours! Read more about this ...
Did you also know that St. Augustine celebrates the datil each year with a festival? Surely you did know that; we celebrate everything with a festival! This year's Datil Pepper Festival will take place on October 6. Not on Datil Pepper Road (although we do have one of those). The festival is hosted by the UF/IFAS Extension St. Johns County Agricultural Center at 3125 Agricultural Center Drive. Festival attendees love The Datil Pepper Restaurant Cook-Off, featuring numerous datil-inspired dishes created by local chefs for which $1Tasting Tickets are available. In conjunction with the Datil Fest is the Master Gardener plant sale, with tours of the arboretum and community gardens. Food court and miscellaneous vendors will be on site. Rain barrels will be on sale!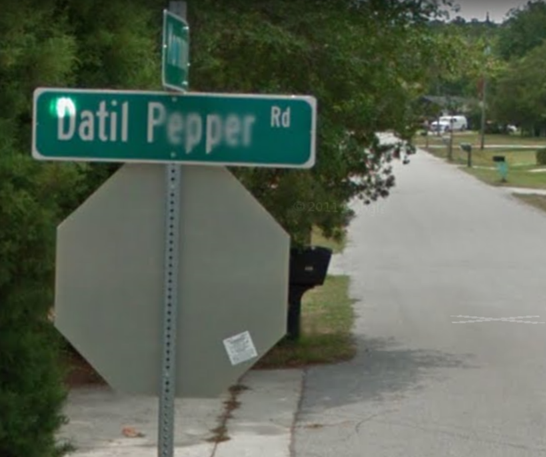 If you are a follower of Bayfront Westcott House Bed and Breakfast, you know that we too celebrate everything St. Augustine. In honor of the datil pepper (and its festival), we have secured an exclusive 10% discount for our guests (past, present, and future) with St. Augustine's datil-loving aficionado -- Old St. Augustine (OSA) Gourmet. This special offer will be valid in October, and the exclusive coupon code will be revealed at that time.

OSA's products include a spicy datil pepper ketchup; Snake Bite datil pepper hot sauce (which pairs particularly nicely with a Bloody Mary, with spaghetti, and with seafood and oysters; Sweet Heat Bar-B-Que Sauce; and a Fountain of Youth Datil Marinade. In addition to its retail platform, OSA's website features some great recipes.They even have a gift specialist on staff to help create that perfectly spicy gift for your clients, employees, friends, and family. If you'd rather shop in person, OSA products are available at numerous local retail spots like the Lighthouse, the Visitor's Center, the Fountain of Youth, the Alligator Farm, Pena Peck House, Panama Hat Company, and more.
Continue to celebrate the datil pepper with us throughout October by liking the Bayfront Westcott House Facebook page. On Saturday September 8, this writer will be imposing on staff--hot peppers enthusiast Joseph, spicy food lover Ryan, and the ready-for-anything Crayton--an in-house Beat-The-Heat tasting challenge (to be videoed of course). In October, social hour guests will have the opportunity to taste test for themselves OSA's Snake Bite Salsa, Venom Datil Pepper Hot Sauce, Jalapeño Honey Mustard, and FROG Jam (Fig, Raspberry, Orange, Ginger). Hopefully you'll let us video!
---
Brought to you by the hot pepper lovers
at Bayfront Westcott House Bed and Breakfast
Located in Downtown St. Augustine's Historic District right on the water!
We'll coordinate your every wish and spoil you every second.
146 Avenida Menendez, St. Augustine FL 32084
904.825.4602 | www.WestcottHouse.com