June 18, 2018
Luella "Diamond Lil" Day McConnell
By: Jamie Narehood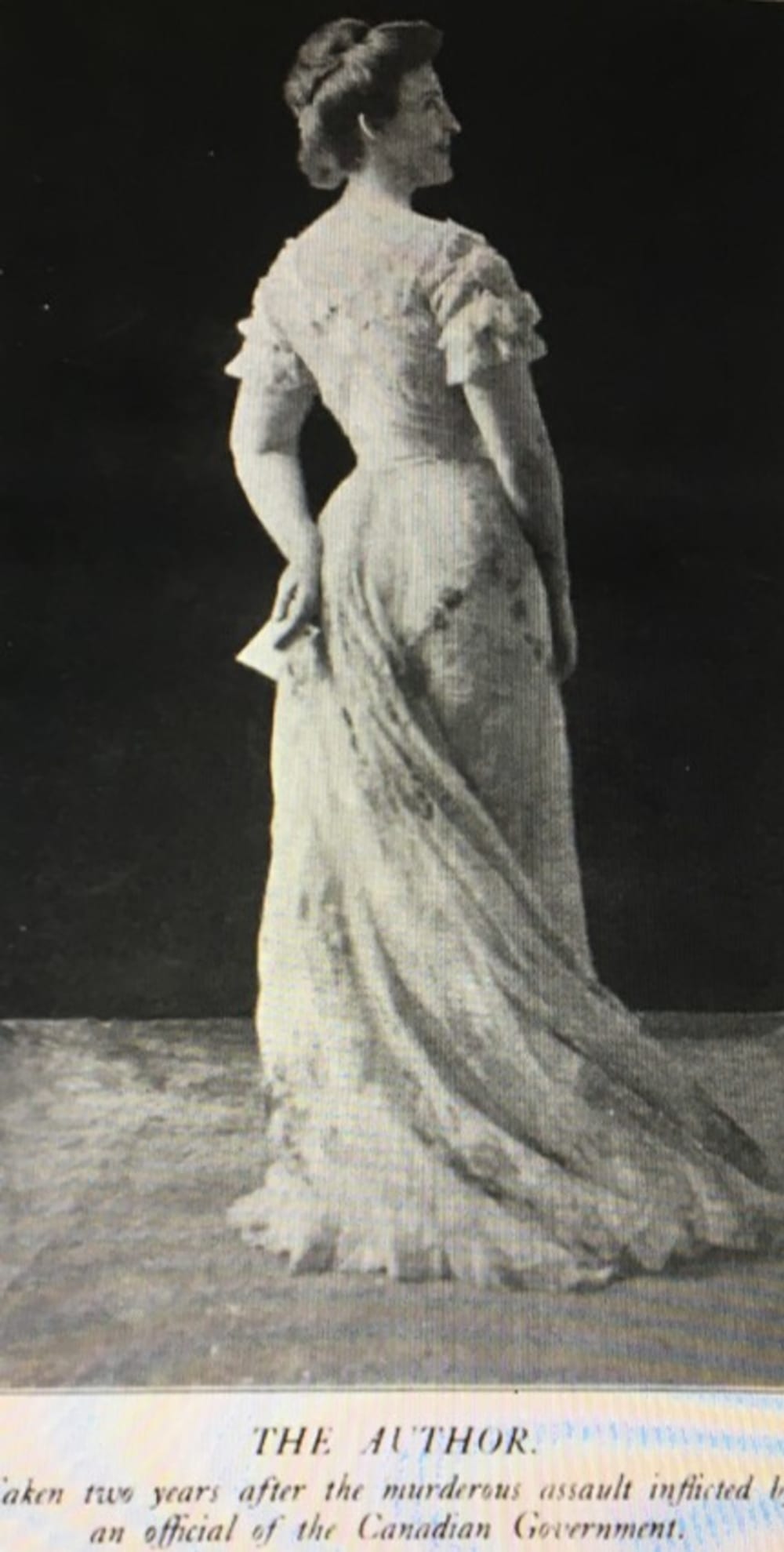 What do the Yukon Territory and St. Augustine have in common?
Luella Day McConnell, AKA Diamond Lil!
"If you wanna live your life, live it all the way and don't you waste it"! (J-Lo, Let's Get Loud).
It seems to me that these days we get so caught up in whatever it is that we are caught up in that we forget to look at people as individuals and are barely aware of their presence, let alone express appreciation for their personal walk through this challenging life. It is important that we women support each other. It is important to recognize about each other that we all have had a shining moment, a crazy moment, a crap moment—a moment defined by a quick minute, a decade, a marriage, an awesome adventure, a fall from grace, whatever the case. Of interest is the fact that while St. Augustine's Wikipedia page touts a lengthy list of "notable residents" of the male persuasion; the list of gals is shamefully short. This blog series, "Go-Girls: St Augustine's Women Past and Present" is dedicated to the moments experienced by the crazy-cool and the just-crazy women of St. Augustine's past and present.
The first time I read about Luella Day McConnell (Lyonella Murat Day, Diamond Lil), I absolutely loved her story, every last little scandalous detail. Talk about a woman who chose to live it all the way and not waste it! Her story is long and complicated and controversial and crazy and impossible to relay in its entirety in the space allotted, so please note that my narrative by no means sets forth historical fact. It is a compilation of research and rumor and in essence just a celebration of her larger-than-life lust for life. Factual and ficticious, real and ridiculous. Let us all be the topic of such great debate.

In 1898 (when she was in her late 20s), Chicago-based but Baltimore-born Dr. Luella Day (a physician who specialized in setting broken bones and was rumored to have "owned" her own hospital) found herself longing for an adventure, and so she did what any well-educated city girl would do—she joined the Klondike gold frenzy. Her intent was to "attend the sick and make a fortune". She knew "Alaska meant a land of eternal snow and ice, the crossing of the continent, a voyage north nearly to the pole, and all the appalling terrors of the unknown and probably the unknowable … the lust of gold … an unquenchable passion." And she did it anyway!

No part of this trip was pleasant, each stage worse than the next. Survival measures imposed by the Mounties on every traveler wishing to enter Klondike territory (Yukon, Canada, just east of Alaska) were brutal. Each person was required to carry one ton of provisions to include things like waterproof blankets, wool socks, flannel over shirts, a medicine chest, and enough food rations to last a year. The Chilkoot Trail was particularly treacherous--about 30 miles of challenging terrain that rose hundreds of feet, featuring a 45-degree slope of pure ice. It was rock covered, snow covered, wet and slippery. Snow storms were frequent and avalanches a constant threat. Sun burn, wind burn, sometimes zero visibility. It typically took more than one climb to get the required provisions to the top. Then a dangerous sled ride down the other side to another boat and on to Dawson City. Quite a mission for anyone to undertake in the late 1800s, let alone a city girl.

By all accounts, Luella settled into Dawson City life rather quickly. She invested in gold properties that panned out (she was the only woman at the time who owned a mine), and she met the man she would marry–California businessman Edward McConnell, who had built Dawson City's Melbourne Hotel. Luella worked for Mr. McConnell and as secretary for several of the miners and soon was able to purchase the hotel herself from Mr. McConnell. Luella just got loud!

Now that you've had a taste of the crazy-cool side of Luella, here comes the crazy-crazy.

There is much debate about what happened next in terms of time line amidst all the mudslinging and chaos in the Klondike, but the gist of it is that after Luella purchased the hotel, the manager of the Canadian Bank of Commerce was determined to buy that hotel for himself, Luella equally determined not to sell. Luella just got louder, and she was quite loud as time went by with regard to corruption allegations of Dawson's city officials--a hot topic of dispute for decades.

I think it logical to assume that in the Gold Rush setting of the Klondike, corruption was as common as is excessive humidity in Florida. Her self-published account of her adventure (The Tragedy of the Klondike) contains all the parts and pieces essential to an engaging adventure story–a great plot, a strong heroine; a trek through the unforgiving wilds of a far-off land; villains; accusations and scandal; assassination attempts on heroine's life to include arsenic poisoning an a foiled shooting; a late-night clandestine flee to safety; and much much more! This book itself is scanned to http://archive.org , cover and all, where you can read it at no charge, at your leisure.

During her Klondike residency, she and her husband traveled to St Augustine, at which time they purchased the later-famous property on Magnolia Avenue known as The Fountain of Youth. I browsed a letter in Luella's file at St. Augustine's Historical Society Research Library in which the author made mention of the McConnells being entertained at the Ponce and that everyone wanted to see Mrs. Day smile. "She was a pretty woman with dark hair and eyes, slender, with a diamond set in her front tooth. She wore an ermine cloak from her head to her heels and diamonds on all of her fingers … and she talked in a graceful manner". A notice in the January 27, 1900, Tatler read "Mr. and Mrs. Edward M. Connell have journeyed from Dawson, Yukon Territory, to enjoy a trip down the American Riviera. Mrs. Connell is a lady of rare beauty and gracefulness and is doubtless intrinsically worth all the gold in the Yukon. They are making the Ponce de Leon their home."

It is that home to which she fled the Klondike. As she tells it, she returned home again to Magnolia Street after an arduous escape, battling ill health and the authorities every step of the way. She was minus her jewels, her fortune, and her husband. Rumor was that she hosted gambling parties in her home. She claimed to have found historic relics indicative of Ponce de Leon's presence and decided to call the well on her property the Ponce de Leon well and charge $0.10 for a drink from the Fountain of Youth. She then began charging admission to the grounds.

Great entrepreneurial spirit, but she enjoyed stirring things up. When a neighbor's horse walked onto her front lawn, she shot it (she was arrested). She ran a classified ad in the newspaper offering a generous reward for information on her missing gardener. She prepared an appeal to justice to President Taft accusing House members of conspiracy and murder. She made claims that Henry Flagler's second wife Ida and Luella's friend, who had been institutionalized by her husband for mental illness, was indeed not insane (coincidentally, Mr. Flagler had persuaded the Florida legislature to pass a law that made "incurable insanity" grounds for divorce). She printed postcards of a map in her possession and stated that Ponce de Leon built the fort; she later printed a magazine and claimed that the Chinese built the fort and Ponce merely finished it. She would stand in the street and distribute handbills to passer-byers with regard to grievances she had. She sold her property and then later disputed the legality of that sale, an action that generated headlines like "Lyonella M. Day Wins Suit on a Technical Point" and "Court Reports Case Reversed: Both Plaintiff and Other Party Found Guilty of Error".

Her final headline, however, read "Local Woman Reported Dead in Auto Crash". Luella's earthly adventures ended on June 23, 1927. She was killed instantly when the car she was driving hit a tree, head on, near Island Grove, Florida, about an hour southwest of St. Augustine. The passenger in her car died three days later and had not been able to provide any details of the accident. Although the estranged Mr. McConnell returned to St. Augustine to claim possessions following Luella's death, he did not claim her body, nor did anyone else. There are no records of a memorial service, a funeral, or a grave site.

It seems clear that she was the woman everyone loved to hate. I would like to think that her troubles at least in part were due to the fact that she was a smart and successful woman who wasn't afraid to get loud. She would have loved the snarky Ecards of which we are so fond today (she probably would have marketed her own). One in particular I think would make her giggle—"Sure, you'll go tell everyone that I was crazy, but you'll forget to tell them the part about you being an ass." [SomeEcards.com]. Of note, when addressing the St Augustine Tourist Club, she has been quoted as saying in that speech, "I have not got insanity, I have not got hysteria, and I have not got any lady-like complications".

She was honored by The Great Floridians 2000 Program, which recognizes individuals who made significant contributions to the history and culture of Florida. Her plaque is displayed at the Fountain of Youth, 11 Magnolia Street. Michelle Reyna, a St. Augustine native and former employee of The Fountain of Youth, brings to life Luella in plays and private performances. Local author, Karen Harvey, wrote a great chapter about Luella in "Daring Daughters: St. Augustine's Feisty Females, 1565-2000". As noted previously, the St. Augustine Historical Society Research Library on Aviles Street has a file full of tidbits about Luella's life. The Inn on Charlotte has a Diamond Lil Suite. The Fountain of Youth gift shop still sells the water, and the Fraser family, who purchased the property in 1927, has done a stellar job of preserving and promoting this historical location, that which under their reign has become one of Florida's largest tourist and educational attractions and significant archaeological dig sites.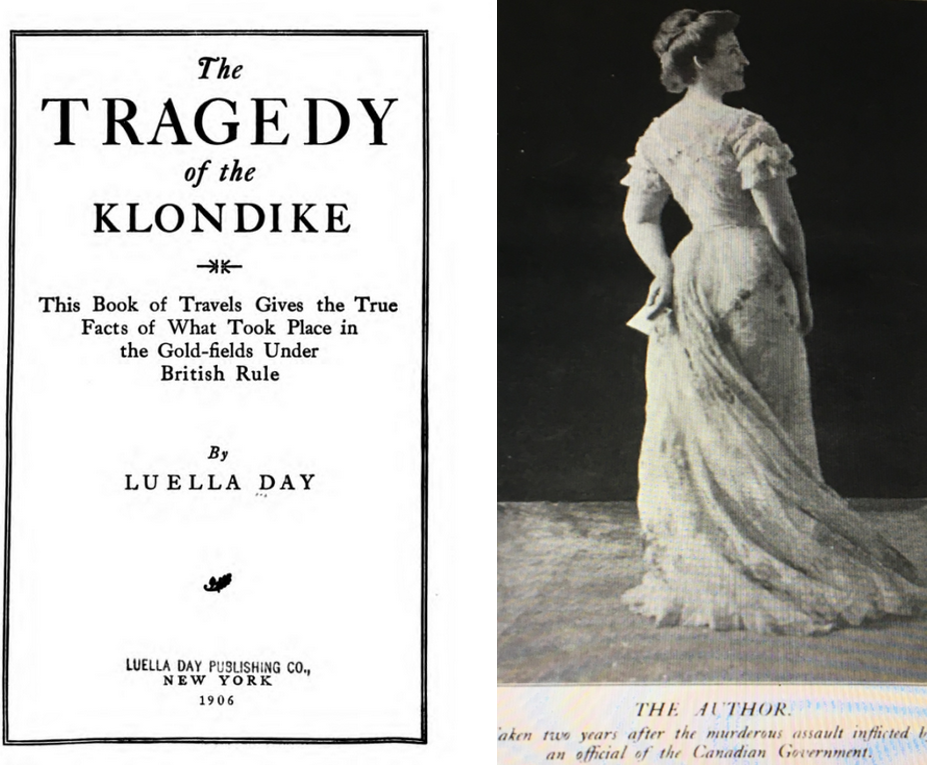 Click here to read her
Klondike story online FREE.
What a wonderful service provided by Hathi Trust Digital Library!