February 25, 2018
Colonial Quarter - St Augustine
By: Bayfront Westcott House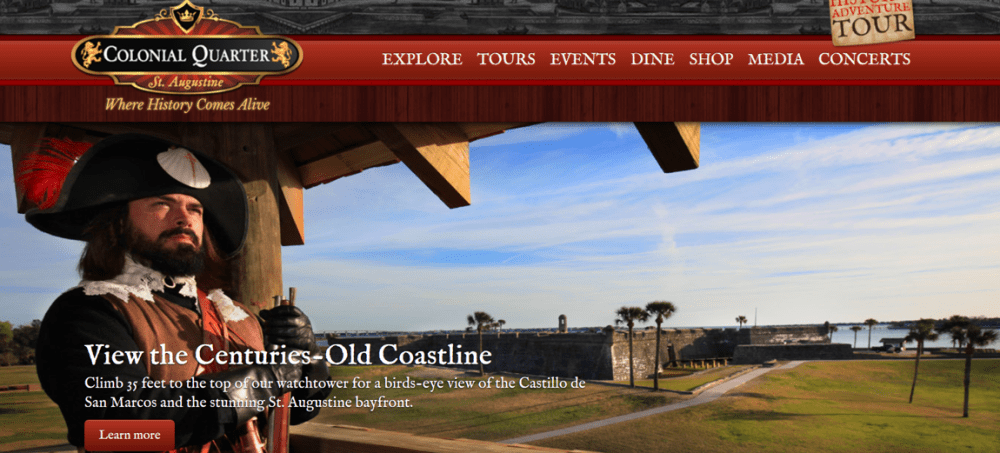 Yet another something special to celebrate in St. Augustine! Pat Croce--entrepreneur, motivation mojo, fitness enthusiast, owner of The St. Augustine Pirate and Treasure Museum and now the Colonial Quarter -- had a dream … to transform this particular St. Augustine property into a historically accurate hub activity for explorers of all ages. Some of St. Augustine's finest historians and the University of Florida helped bring that dream to fruition.
Start your journey at the grape leaves-sprouting arbor via the crunchy-but-firm, tiny-shells pathway, with signs leading you to the 16th, 17th, and 18th centuries as experienced in Saint Augustine FL.
The 16th Century was a time of new beginnings for the Spanish and the start of a brand new city. This quadrant replicates a burned-out fort, log fencing, and an archeological dig area where you'll find original artifacts and replicas alike. Perhaps the grandest find is the caravel ship that is being built piece by piece by a Boatwright (a 10-year project whose progress you can track via web cam). At 55' long, it will resemble an authentic 16th century explorer's ship and will be presented as an interactive exhibit with a feature cut-away portion to facilitate inside-the-ship viewing.
The 17th century brought to St. Augustine growth and fortification. Listen to lectures by well-trained Colonial blacksmiths and watch as they make hinges, hooks, and other items featured throughout the museum's architecture. Climb the 35'-tall watchtower for the best view in the city—right over the top of the Castillo De San Marcos to the ocean. Pay attention to the numbers on the flooring of the watchtower; if you align your vision with an iron rod (yes, forged by the blacksmith), you can see the Lighthouse, Davis Shores, and the Bridge of Lions! For those who cannot make the climb, never fear … the exhibit at the foot of the tower offers a touch-screen television that allows you to see (almost) everything too! In line with that aforementioned 17th century fortification (during which the Spanish Militia during this period served as a line of defense for the city), a gunsmith awaits those that descend from the tower to demonstrate how to load and fire a musket from that time period. The kids will enjoy the wooden muskets that cock back and click with a press of the trigger! The gunsmiths and the blacksmiths are quite knowledgeable and are happy to answer any questions and even pose for pictures with you.
Eighteenth century St. Augustine endured both Spanish and British rule. As a Spanish Era Garrison town, St. Augustine served both fort and military efforts. Visit a soldier's home from 1720; make yourself a leather necklace in the Leatherman's shop; or just sit and relax a bit before finishing your journey. This part of the quarter depicts a period town plaza complete with picnic tables and a stage. The Colonial Crew Revue, a St. Augustine original musical, is set to open in June. This interactive lively evening show, set under a sweeping live oak in the lantern-lit amphitheater, will feature an entertaining cast of historical characters! Enjoy complimentary beer, wine, sangria, and light snacks at family-style table seating.
If the show isn't quite to your taste, perhaps the Taberna del Caballo will please the palate. Immerse yourself in a period Spanish-pub experience, from clinking carafes and Spanish song to servers in period clothing and unexpected visits from 1700s Spanish garrison soldiers. Enjoy light tapas, local fare, and cold beverages in an intimate atmosphere you won't find elsewhere!
Don't get so caught up in all the Spanish hoopla that you forget to check out the 18th Century British period!
The de Mesa-Sanchez House is a 1740s one-room, carefully-restored, colonial residence, first owned by Antonio de Mesa, a Royal Treasury shore guard. The East Florida Gazette Newspaper building houses a printing press brought over by John Wells in 1784. The Bull and Crown Publick House boasts delicious British fare and servers in period costume. Grab a seat at the gorgeous wooden bar and have yourself a drink before checking out the Menorcan Gardens.
Return to 21th century St. Augustine via the Flags Over St. Augustine Boardwalk, a walk amidst the eleven flags that have flown over our Ancient City for almost 450 years, from the flag that likely flew on the mast of Juan Ponce de Leon's ship as he explored Florida's northeast coast to today's 50-stars-and-13-stripes flag that embodies the United States of America!
The Quarter's private grand opening was just days ago in March. The grounds were blessed by the Bishop of St. Augustine. Celebrated speakers of course included founder Pat Croce, St. Augustine's Mayor Boles, and The Head of University of Florida. There was a ribbon cutting and a sneak peak at the Colonial Crew Revue. Pat Croce was seen throughout the night making his rounds, greeting his guests and stopping to compliment his massive staff of artisans, servers, management, and tour guides.
Daily tours are delivered by certified guides donned in Indiana Jones-esque type uniforms (some complete with hats and bullwhip). They undergo intensive training and must receive University of Florida certification with regard to history and tour presentation.
A huge thank–you to Pat Croce who has out done himself once again, providing yet another a top-notch, one-of-a-kind interactive experience that will keep St. Augustine on the map so to speak and demonstrates the significance of said map marker!
---
Where to Stay in St Augustine
If you're looking for luxury lodging in St Augustine, the place to stay is Bayfront Westcott House. This St. Augustine waterfront historic home was built in 1880 and offers 16 luxurious rooms; a complimentary gourmet breakfast each morning; on-the-house early-evening beer, wine, and nibbles; and a fabulous front-seat view of the grand Bridge of Lions and majestic Matanzas Bay.
Lonny and Cassandra shared their experience. "My wife and I checked into Bafront Westcott House and greeted by experienced staff. Joy Warren the owner knows her stuff, great job on a clean environment and excellent breakfast, WOW, the best I have had in years. WE will stay only @ Westcott next time we visit St. Augustine, Fl. My wife loved the bed linens so much we bought a set."
Bayfront Westcott House
146 Avenida Menendez St Augustine FL | 904.825.4602 | www.WestcottHouse.com
We'll coordinate your every wish and spoil you every second!