March 10, 2019
A Healthy and Refreshing Fusion of Pineapple Kiwi Mint and Honey
By: Jamie Narehood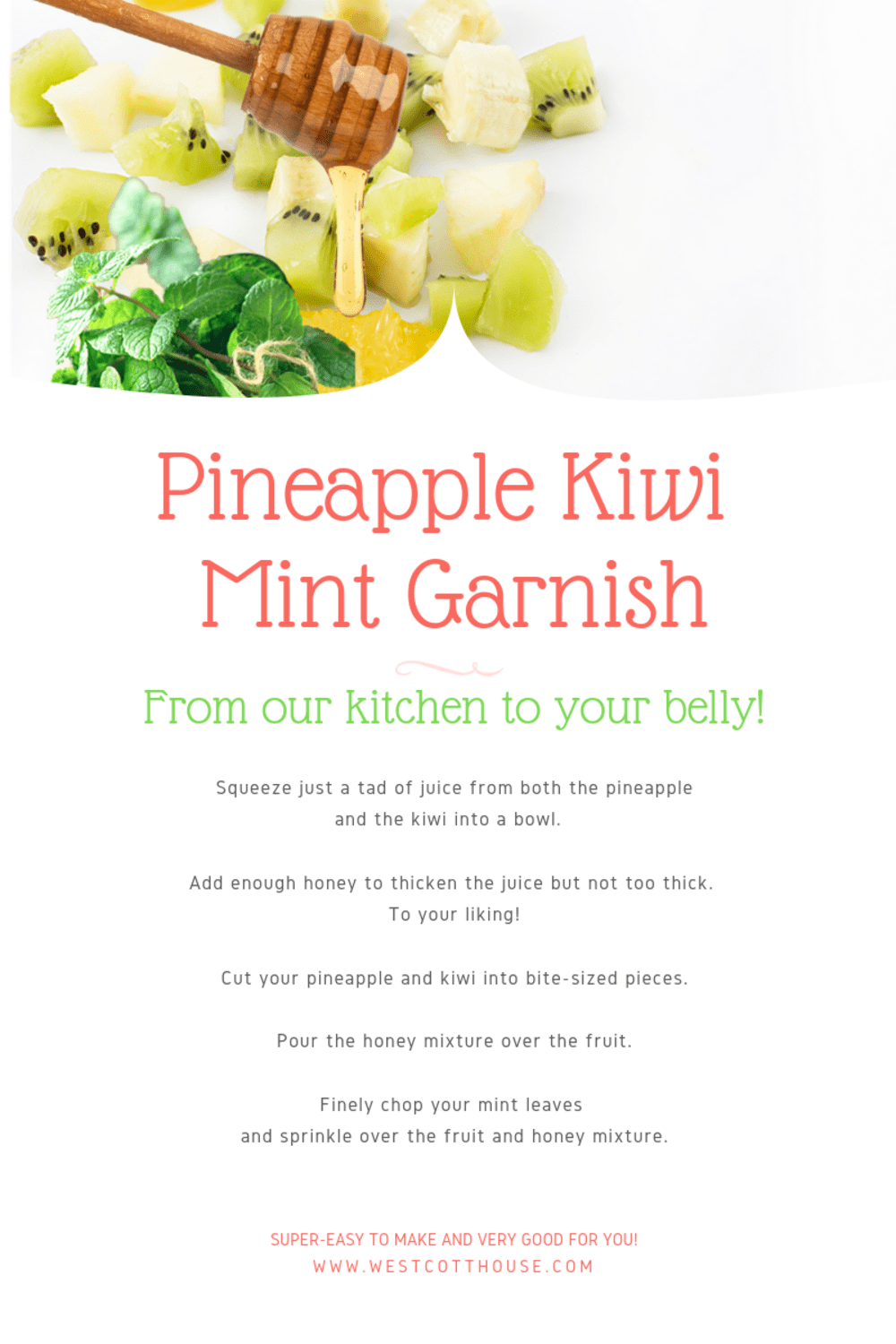 brought to you by
Bayfront Westcott House
A Luxury St Augustine B&B
146 Avenida Menendez, St. Augustine FL 32084
www.westcotthouse.com /904.825.4602
Pineapple, kiwi, mint, and honey—one of our favorite simple yet elegant and refreshingly healthy garnishes (especially for Baked Egg and Cheese Flan).
Kiwi is a high source of vitamin C. It has been known to boost the immune system and aid in digestion. Some studies show it to help manage blood pressure and reduce clotting as well as protect against vision loss. It has been suggested that pineapple, in addition to helping to manage blood pressure and aid in digestion, is useful as an anti-inflammatory. Mint, of course, is popular for its effects on allergies, the common cold, indigestion, and irritable bowel syndrome. As with any food, herb, or medication, it is important that you conduct your own research and determine potential risks and benefits as they pertain to your personal health.
Regarding the "Fresh, Frozen, or Canned" fruit and vegetables debate, FruitAndVeggiesMoreMatters.org proposes that a diet built from one form of fruits or vegetables over another loses out on the benefits that each form provides. We do lean toward fresh fruits and vegetables, but this article does lend credence to the benefits of both frozen and canned.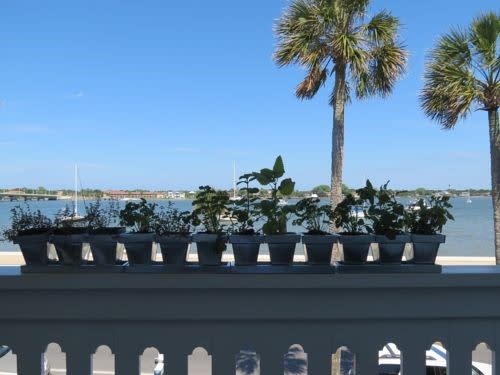 Myra's herbs. Bayfront breezes and St Augustine sun for everyone!
In terms of storage, we find that our fixings fare better and taste better when stored in glass containers, plus, contaminant / toxin scenarios are decreased significantly with glass containers versus plastic. For this dish, however, we make every effort to prepare only enough for one sitting.
This pineapple-kiwi-mint blend has many tasty applications-- a fabulous breakfast smoothie; homemade flavored water; salsa; bruschetta; guacamole; slaw; chicken dishes; crab cake sliders; black beans and rice wraps; spring rolls; cream cheese-filled won-tons topping; BBQ sauce; a fruit dip; frozen fruit pops; muffins; cheesecake; etc.
We hope that you will join us at Bayfront Westcott House Bed and Breakfast in St. Augustine, FL, if only for a quick visit, and let us treat you to treats like this! We promise to coordinate your every wish and spoil you every second.